How I Earned Over 1,000 Dollars a Month as a Freelancer (and How You too Can)
written by Abdullah | May 14, 2020
Sometimes back in 2016, I made a very stupid mistake of buying a certain online business course.
The seller was just a brutal marketer who has never tried what he was promoting.
He simply put two to three strategies together and claimed it consistently made him a whole lot of money –LIES!!
Well, little did I know that purchasing that course was a blessing in disguise.
How?
After everyone had discovered the dishonesty, we started chatting with each other, whining and condemning.
It was during this period, I sent a DM to one of us who was already making a sustainable income online but I didn't know yet.
He wanted to try something new and that was why he enrolled for the SCAM we bought.
He told me, he was going to try it by investing a designated time and money he had budgeted. If it yielded no positive result, he would go back to his freelancing.
Freelancing?
I didn't know anything about online freelancing –which basically meant rendering your services online and getting paid for it.
After a while, I got back to him and he taught me all about freelancing on the internet.
I earned ₦40,000 net profit in 10 days which is not bad for a business I started with no capital.
Since then, I've earned millions of naira through online freelancing and below is the amount I earned between February and June last year.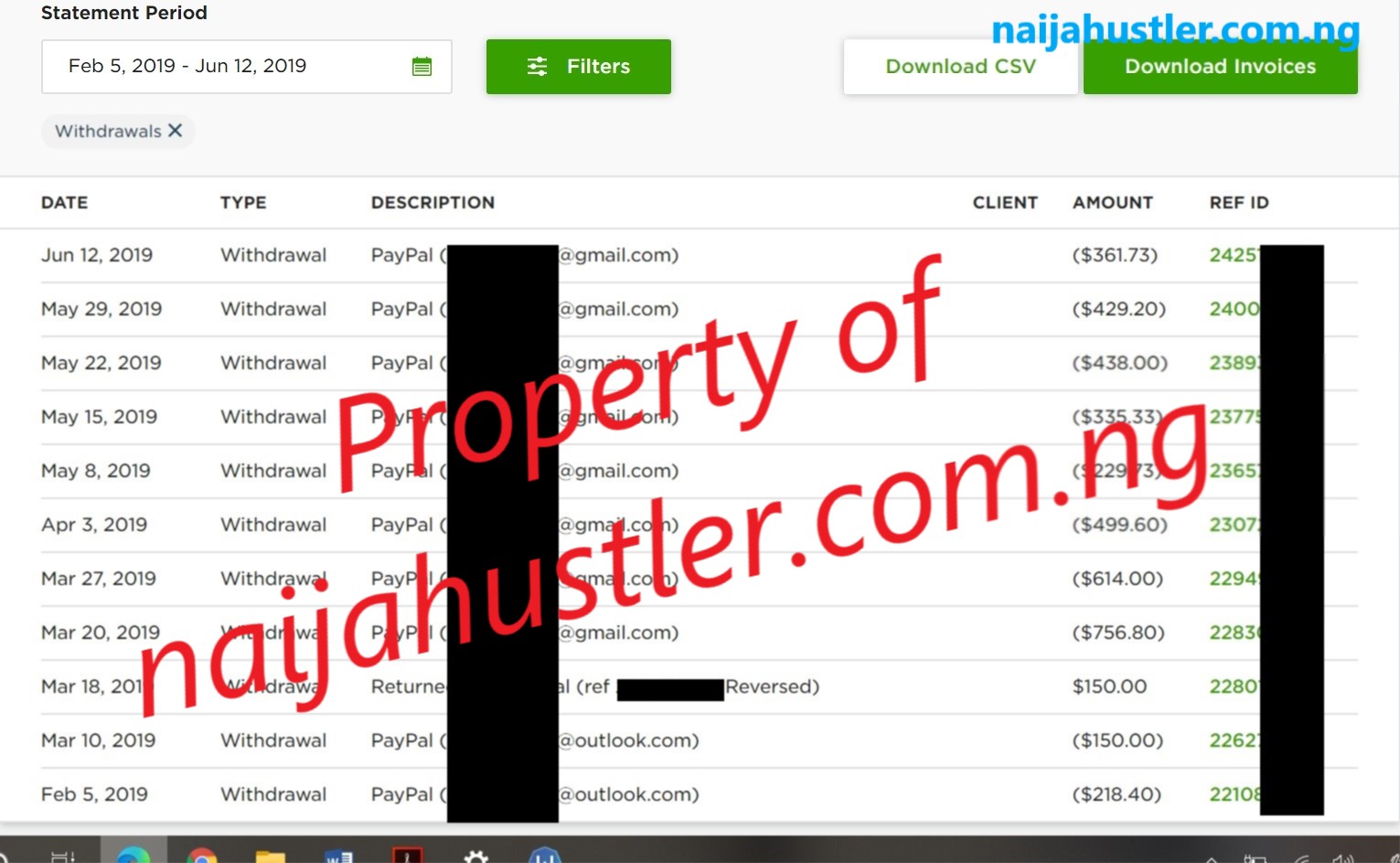 There are many more Nigerians that consistently earn five times that exact amount per-time. If a Nigerian student can do this, then every undergraduate, graduate and post-graduate can do better.
By the way, if you want to start earning $1,000 monthly by rendering services, let me introduce you to a successful freelancer who can help you succeed.
His name is Godfrey Elabor. Mr Godfrey was a factory worker who earned ₦14,000 per month.
(I bet you can imagine how HARD living on ₦14,000 per month is in Nigeria)
He knew he had to change so he started saving and began to try out other sources of income that are more rewarding.
Today, he earns nothing less than ₦9,750 PER DAY which makes a total of ₦292,500, MINIMUM, per month.
In all honesty, I like to keep my things private and I fought myself to make the above screenshot of my earnings public but here's why I did it – Many people's monthly expenses far exceed their income. This ought not to be so since there are many untapped money-making opportunities out there.
You can actually make more than the amount you currently earn monthly. And if this is what you really want right now, read Mr Godfrey's article about the only two things you need to get started the way he did.
Whatever you do, don't just whine in 2020 about not knowing what to do to make money.
Virtually everyone is sitting at home today because of the pandemic. Render services that people want and make huge profits.
Have a great week.
PS: If you'd like to learn more about what you can do to make $1000 monthly, you should read Mr Godfrey's article. It is worth it. >>Click here to read.